Stories - Live and In Person
By Alan Ostroff
Directed by Stephanie Fittro
Original theme by Clayton Colwell
Starring Nick Lehane & Robin Cannon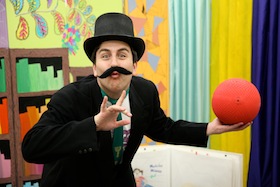 Infinity's production of Stories - Live and In Person is directed by Stephanie Fittro, and stage managed by Arienne Pelletier. Production design by Nola Denett with assistance from Naomi Raddatz and Kristin Gdula. The Stories - Live and In Person theme was composed by Clayton Colwell.
The show is broken into three short segments. In the first of the three comedic stories, a great Shakespearean actor must teach a spotlight-stealing little girl in the audience how to behave at a show. In the second story, the audience must listen carefully to keep from being tricked by a zany criminal mastermind named Willy the Fork. In the third and last story, two nerdy scientists competing to find the secrets of space and time enlist the audience to help decide their fate.
Stories - Live and In Person was written by Infinity Co-Producing Artistic Director Alan Ostroff. It was seen by 2,700 children in New York City in the fall of 2010, in a tour presented by Arts for All, Inc. The play shows children the timeless power of live theatre, and engages their imagination with the energy of being in the same room as the actors - live and in person.
As quoted from Rebekah Slotnik, a teacher at The Renaissance School in Queens, New York: "Thank you, [Stories - Live and In Person] was fantastic...I believe this may have been some of the loftiest theatre to which our young students have ever been exposed. The students were thoroughly entertained and learned a lot...Thank you for providing our students with such a rich theatrical and educational experience."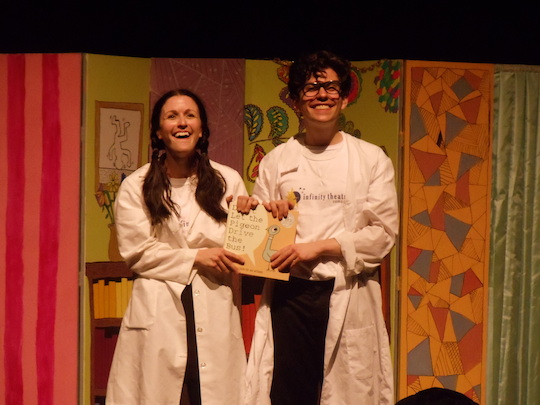 To help further an appreciation of theatre, Infinity is giving any child who attends Stories - Live an In Person a free ticket to one of our summer mainstage shows: MY WAY: A MUSICAL TRIBUTE TO FRANK SINATRA or LITTLE SHOP OF HORRORS.
A Q&A and a one-hour workshop follow the 45-minute children's show - both led by Infinity's Director of Education, Robin Cannon, who stars in the show with Nick Lehane. Children will learn theatre games, movement, and improvisation. The fun-filled two-hour experience teaches important lessons to children about listening, sharing, and being attentive audience members.