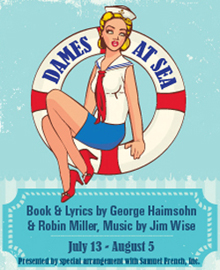 CAST
Erick Buckley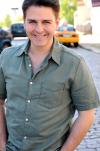 Erick Buckley* (Hennesey/Captain) was recently seen on Broadway in The Addams Family where he performed the role of Uncle Fester. He was the first person in the world to perform both the roles of Marius and Jean Valjean in the Broadway production of Les Miserables. He has appeared nationally and on Broadway as Dave in The Full Monty, Piangi in The Phantom of the Opera, Gangster #1 in Kiss Me, Kate and Roger in Grease! He has appeared at theaters around the country as Frederic in Pirates of Penzance, Nicely-Nicely Johnson in Guys & Dolls, and the Padre in Man of La Mancha. He has also toured as a featured soloist in concerts from Tampa to Tokyo and Barbados to Berlin. His favorite roles are husband to Robin Irwin and father to Miranda.
Darien Crago

Darien Crago (Joan) is overjoyed to have this opportunity of working with Mr. Randy Skinner in her Infinity Theater debut! A recent graduate of Wright State University, Darien has been tap dancing since the age of six. Her recent New York credits include starring as Peggy Sawyer in the John W. Engeman's production of 42ND STREET and performing with Parallel Exit in their new musical dance comedy, "I LOVE BOB." Regional work: SWEET CHARITY (Helene), SPELLING BEE (Logainne), NUNSENSE (Sr. Mary Leo). Special thanks Randy and the creative team and 'Ahoy!' to her family! www.DarienCrago.com
Cody Davis

Cody Davis* (Lucky) is thrilled to be making his Infinity Theatre Co. debut in DAMES AT SEA! He is a recent graduate of the University of Michigan where he received a BFA in Musical Theatre (Go Blue!). University credits: INTO THE WOODS (Jack), BRIGADOON (Archie Beaton), ALL'S WELL THAT ENDS WELL (King of France). He performed in numerous productions at Music Theatre of Wichita, favorites including SUNSET BOULEVARD (Artie), Disney's THE LITTLE MERMAID (Jetsam), THOROUGHLY MODERN MILLIE, and WHITE CHRISTMAS. Endless love and thanks to amazing parents, family, and friends. Galatians 2:20.
Eric Huffman

Eric Huffman* (Dick), a native of Kansas City, recently graduated from the Cincinnati Conservatory of Music (CCM). Eric has loved tap since an early age and is excited to be working on this show. At school, Eric appeared in Oklahoma (Will Parker), Hello Again (The Young Thing), and Cole Porter's Out of this Word (Mercury) while also playing keyboards in many pit orchestras. Regional credits include North Shore Music Theatre, West Virginia Public Theatre, and Surflight Theatre. Enjoy the show and bon voyage!
Megan Kelley

Megan Kelley (Ruby) is so thrilled to be performing in Dames At Sea! Credits: Regional; The Engeman Theatre: 42nd Street (Ensemble, u/s Peggy Sawyer), Paper Mill Playhouse: White Christmas (Ensemble), Merry-Go-Round Playhouse: Anything Goes (Angel-Purity) and 42nd Street (Diane). Musicals At Richter: 42nd Street (Peggy Sawyer). Also worked as Assistant Choreographer for the Off-Broadway show Queen of the Mist. Thank you to my wonderful family for your constant love and support!
Kristie Kerwin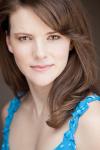 Kristie Kerwin* (Mona) is thrilled to be a part of Dames at Sea with Infinity Theatre Company! She made her Broadway debut in the Tony Award Winning production of Monty Python's Spamalot . She was in the original cast of Broadway's Lincoln Center Touring Production of South Pacific where she played the role of Ensign Sue Yaeger and performed as Nellie Forbush. Other favorites: New York City Center Encores! Bye Bye Birdie, the original cast (and cast recording) of Irving Berlin's White Christmas, and playing Betty Brown in No No Nanette at the Cape Playhouse. BFA, NYU/Tisch/CAP21 "Love and thanks to family and friends!" www.KristieKerwin.com
Lance E. Hayes
Lance E. Hayes (u/s Lucky, Captain/Hennessey) – Lance is currently working on his BM in Musical Theatre at The Catholic University of America where he performed in On the Town and Cabaret. He has also been seen at Toby's Dinner Theatre of Columbia and Baltimore in CATS, Cinderella, and the regional premiere of Happy Days: The Musical. Some of his favorite roles include Cogsworth in Beauty and the Beast and Bobby in Curtains. He can't seem to get away from the stage and is thrilled to be working with everyone at Infinity Theatre this summer. He hopes you enjoy the show.
Dan Reardon
Dan Reardon (u/s Dick) is thrilled to be working with Infinity Theatre Company this summer! A native of Wakefield, MA, he is currently pursuing a BFA in Musical Theatre at Syracuse University. Recent credits include The Lion, the Witch, and the Wardrobe at Syracuse Stage and The Cradle Will Rock at Syracuse University. Also at Syracuse University, he recently appeared in a staged reading of Like You Like It as Phil, and will appear as Charley Kringas in Merrily We Roll Along in the fall. Dan expresses his gratitude to Alan and Anna for this amazing opportunity! Love to Mom, Dad, and Caroline.
Kimberly Wilpon
Kimberly Wilpon (Assistant Stage Manager, u/s Mona) is proud to join the Infinity Theatre Company for this summer season. She has most recently toured with Arts Power National Touring Theatre playing Cat (Are You My Mother?) and Helen/Athena (Jigsaw Jones). Recent credits include the role of Marty (Grease) at The Booth Theater, Green Girl (Shout!: The Mod Musical) at Marymount Manhattan College from which she graduated in May 2011. Favorite roles include Antonia (Man of La Mancha), Gilmer (Godspell), Fritzie (Cabaret), Zaneeta (The Music Man), and Chava (Fiddler on the Roof). Kimberly would like to dedicate this summer to her family for always giving unconditional love.
JZ Zaeske
JZ Zaeske (u/s Ruby, Joan) is currently an undergraduate at The Catholic University of America. Her most recent performance credits include: Helga in Cabaret, Rajah Bimmy Girl in On the Town, Diana in Nine, Pearl Lady in Thoroughly Modern Millie at Benjamin T. Rome School of Music; Dance Captain/Ensemble in Meet Me in St. Louis at Montgomery College Summer Dinner Theater; Ghost of Christmas Future in A Christmas Carol at Steel Beam Theater; Adelaide in Guys & Dolls at Paramount Theater. Her most recent choreography credits include: Annie Get Your Gun, Kiss Me Kate at Gonzaga College High School; 12 Dancing Princesses, The Little Mermaid, Pinocchio, Robin Hood at Steel Beam Theater Children's Theater; Requiem, Enchantress at Catholic University. Her guest choreography credits include: The Last Five Years at Limelight Theater & 1st Stage; Over the Tracks at Steel Beam Theater Children's Theater; A Christmas Carol at Gonzaga College High School. Her assistant choreography credits include: Oklahoma at Theater on the Hill. She is also the Founder of Pure Alignment Dance Company at Catholic University as well as having resided as Artistic Director of the Company for two years during which she choreographed a number of pieces for the company. She has also attended prestigious summer programs such as: Carnegie Mellon's Pre-College Summer Program, Flying Swan Acting Conservatory, and Broadway Theater Project.
CREATIVES AND CREW
Randy Skinner
Randy Skinner (Director/Choreographer) is an award-winning director, choreographer, and performer whose work has been seen on Broadway, National and International tours, and Regional theatres. He received Tony, Drama Desk, Outer Critics, and Astaire nominations for his choreography for 42ND STREET. He also choreographed the opening number for the 2001 Tony Awards television broadcast. Other shows include AIN'T BROADWAY GRAND (Tony, Outer Critics nominations), Irving Berlin's WHITE CHRISTMAS (Tony, Drama Desk nominations), STATE FAIR (Outer Critics nomination), AFTER THE NIGHT AND THE MUSIC (MTC/Biltmore Theatre), DO RE MI, OF THEE I SING, FACE THE MUSIC, NO NO NANETTE and GENTLEMEN PREFER BLONDES (the last five at City Center Encores), GOTTA DANCE! (City Center), HAPPY DAYS (Los Angeles), STORMY WEATHER (with Leslie Uggams/Pasadena Playhouse), AN AMERICAN IN PARIS (Alley Theatre), ABBY'S SONG (City Center), PUTTIN' ON THE RITZ (Kennedy Center), ON THE 5TH (Takarazuka Revue Company, Japan), LUCKY IN THE RAIN, GEORGE M, BABES IN ARMS (all three at Goodspeed Opera House), HELLO DOLLY, STRIKE UP THE BAND, PAL JOEY, and LONE STAR LOVE (Lucille Lortel nomination). He has received the Los Angeles Drama Critics Award, the Los Angeles Dramalogue Award, the Connecticut Critics Award, and the Cleveland Times Theatre Award. Among Mr. Skinner's performances are roles in A CHORUS LINE, GYPSY, DAMES AT SEA, HELLO DOLLY, PAL JOEY, ONCE MORE WITH FEELING, HIGH SPIRITS, WALKING HAPPY, and BABES IN ARMS, directed by the legendary Ginger Rogers. His "taps" can be heard on the recordings LUCKY IN THE RAIN, SONDHEIM AT THE MOVIES, 110 IN THE SHADE, and STRIKE UP THE BAND. He most recently choreographed the West End production of LEND ME A TENOR THE MUSICAL. Mr. Skinner is a graduate of Ohio State University and he regularly teaches master classes throughout the country at universities and festivals.
Michael Cassara
Michael Cassara, CSA (Casting Director) is thrilled to return for a third season with Infinity! Recent credits include Fat Camp (off-Broadway), The City Club (Minetta Lane), Heat Wave: The Jack Cole Project (dir. Chet Walker/Queens Theatre), The Man Who Came To Dinner (Peccadillo), Falling For Eve (York Theatre), Kingdom (The Old Globe). Upcoming projects include the off-Broadway return of Forbidden Broadway, Pal Joey (Barn Theatre), the feature film "Contest", and the 2012 New York Musical Theatre Festival. Native Clevelander. Member, Casting Society of America. Please visit MichaelCassara.net. @michaelcassara
Emily Morgan
Emily Morgan (Associate Director & Choreographer) Closer Than Ever (York Theatre, Associate Choreographer), Cactus Flower (Off-Broadway, Assistant Director), Girl's Night (Off-Broadway, Associate Choreographer), Hurricane the Musical (NYMF, Assistant Director and Choreographer), ABC's Extreme Home Makeover (Musical Demolition, Assistant Choreographer), Pure Heaven (Assistant Choreographer, Emelin Theatre), Irving Berlin's White Christmas (re-created and adapted original choreography, Manitoba Theatre Centre, Dance Captain of the Broadway First National Tour and Assistant Choreographer of current National Tour).
Mike Pettry
Mike Pettry (Music Director/Pianist/Conductor) is a Jonathan Larson Award winning composer/lyricist. Broadway: Godspell. National Tour: Dirty Rotten Scoundrels (asst. MD). Off-Broadway: Signs of Life, Rooms (cast album). Other New York: The Black Suits (Public Theater), Things to Ruin (Second Stage, cast album). Regional: Fly By Night (TheatreWorks, music direction and orchestration), Sound of Music, My Fair Lady, 42nd Street, RENT (Engeman Theatre). Musicals written include The Time Travelers Convention, Hardcore West Virginia, Long Distance, World of Heroes, The Wonderful World of Zidney (featured highlight, Kennedy Center's Page to Stage Festival. Lincoln Center Theatre teaching artist. MFA in NYU Musical Theatre Writing. www.MikePettry.com
Anshuman Bhatia
Anshuman Bhatia (Co-Lighting Designer) is excited to be back in Annapolis with Infinity Theater Company! After graduating from NYU with his MFA in Design for Stage and Film he is ready for a lifetime of new and exciting challenges. Recent designs include As You Like It (Columbia, Scenic), a cautionary tail (NYU,), …things i found on craigslist, Little Shop of Horrors and My Way (Infinity Theatre Company), Major Barbara (NYU). Other assisting work includes Death Takes a Holiday (Roundabout). www.BhatiaDesign.com
Jessa-Raye Court
Jessa-Raye Court (Costume Designer) NYC: Rags (Marymount Manhattan), Tea & Sympathy (Ripple Effect), 1000 Blinks (theNEST), Rosencrantz and Guildenstern are Dead (Big Rodent), Week 41 365 Days/ 365 Plays (Classical Theatre of Harlem) Regional: Hamlet (Reduxion Theatre Company)The Crucible (Rutgers Theater Company), Help Yourself (Williamstown Theatre Festival). MFA: Mason Gross School of the Arts, Rutgers University.
Jake Ewonus
Jake Ewonus (Scenic Consultant) is very grateful to be making his debut at Infinity Theatre Company as this season's scenic consultant. He is originally from New York, but is currently in the DC metro area receiving his MFA in scenic design from the University of Maryland. He's worked at Studio Theatre, Signature Theatre, Wooly Mammoth Theatre, and is currently in pre-production as Production Designer on his third and fourth films which are yet to be titled.
Jimmy Lawlor
Jimmy Lawlor (Co-Lighting Designer) is thrilled to be returning to Infinity Theatre Co! Last year Jimmy lit Little Shop of Horrors. Originally from the metro DC area, Jimmy moved to NYC and received his MFA in Lighting Design at New York University. Jimmy's New York work as been seen at St. Clement's Theatre, Theatre Row, HERE Arts Center, NYU, Columbia University, among others. Regional work includes The Kennedy Center, Arena Stage, and in both spaces of The Shakespeare Theatre. Upcoming projects include lighting shows for River Valley Rep in Poughkeepsie, NY, as well as returning to Robert Wilson's Watermill Center to light site-specific art installations. www.LawlorDesign.com
Wes Shippee
Wes Shippee (Sound Designer) is a recent NYU graduate and Drama Desk-nominated sound designer, audio engineer, and musician. Notable projects include the Radio City Christmas Spectacular and six years of work with RadioTheatre NYC, garnering multiple New York Innovative Theatre awards. Wes recently mixed mainstage shows aboard Norwegian Cruise Line's Pride of America in Hawaii as Head Audio Engineer. He is also the keyboard player for Grammy-winning artist Moneybrother. He is thrilled to be spending his third Summer season in Annapolis with Infinity.
Carol A. Sullivan
Carol A. Sullivan (Stage Manager) Stage management credits include work on Broadway, Off-Broadway and beyond. An active Actors' Equity member who enjoys volunteering for B'way Bares / Equity Fights AIDS and the 52nd Street Project.
Raymond A. Ascione
Retired Navy Commander Raymond A. Ascione (Reeds) retired from 35 years of active naval service in September 1994. During his long and distinguished career, his assignments included 15 years of service with the Naval Academy Band as an instrumentalist, assistant leader, and leader. While an instrumentalist with the Naval Academy Band, he served as the band's principal clarinetist, drum major, and was a member of the saxophone section of the band's nationally acclaimed jazz ensemble. Since retiring, CDR Ascione remains very active musically as an educator, performer, clinician and consultant. He has spent almost 30 years as an Adjunct Faculty Member of Anne Arundel Community College's Music Department. He resides in Annapolis, MD.
Jan Abbot
Jan Abbott (Piano 2) is a musician who plays jazz piano and trombone. She graduated with Bachelor of Music in Trombone at the University of Tennessee. Jan played trombone with the Knoxville symphony and freelanced with various groups in East Tennessee playing both jazz piano and trombone until moving to Maryland in 2005. She now plays jazz piano and trombone with a number of groups in the Annapolis/Baltimore area. Jan is married and has a ten year old daughter and the family currently resides in Stevensville, MD. Although Jan didn't serve in the military, her grandfather was on board the USS Indianapolis during WWII and died while serving his country. Jan's uncle and father-in-law also served in the Navy and her brother-in-law attended the US Naval Academy.
Don Keller, Jr.
Retired Navy Commander Don Keller, Jr. (Trumpet) retired from the Navy Music Program in 2008 as a Commander, US Navy. Served as Commanding Officer of the Armed Forces School of Music, Director of the US Naval Academy Band in Annapolis MD, Fleet Forces Band in Norfolk VA, SIXTH Fleet Band in Naples Italy, SEVENTH Fleet Band in Yokuska Japan, and Navy Band San Francisco. Served as a trumpet instrumentalist in Navy Band Orlando FL and Navy Band Great Lakes in Chicago IL.
Marty Knepp
Marty Knepp (Percussion) received his musical education from Shenandoah Conservatory of Music. He currently leads the Anne Arundel Community College jazz ensemble as well as a percussion studio. Marty's current musical projects include: Big Band Caliente (which he leads), "Ehoff.Gano.Knepp" which just released their debut CD titled "Dialogue", Blue Moon Big Band, Mike Kamuf Little Big Band, Set Theory (Co leads with Dr Mark Cook), Dale Corn Orchestra. Marty has shared the stage with Chris Vadala, Mike Stern, Mark Pender, Charlie Daniels, Sheena Easton and many other great musicians. Marty has codeveloped with his trio the following concept, "Musical Interactive Listening." "A groove is a terrible thing to waste" Please visit www.KneppTunes.com for more information about Marty.
Tom Pitta
Tom Pitta (Bass) is a native of Eldersburg, Maryland. He graduated from Loyola High School, in Towson, Maryland in 1987, and earned a Bachelor of Arts (English) degree from Loyola College, Baltimore in 1991. Mr. Pitta went on to study music at Towson University, earning a Bachelor of Science and a Master of Music degree in 1996. While at Towson, he studied double bass privately with Drew Gress and Paul Johnson, and composition with Hank Levy. As a student, he performed on the critically acclaimed Towson Jazz Ensemble's 1995 recording The Tiger Speaks (Downbeat, 5 stars). After graduating, he was in demand as a free lance jazz/commercial bassist. Having performed and recorded with pianist John Colianni, Mr. Pitta appeared with him on PBS's Meet the Artist. He also recorded and performed with pianist Greg Hatza in Shanghai West, an ensemble that blended jazz and traditional Chinese music using modern instruments and traditional Chinese instruments. Previously, he served as Instructor of Jazz Bass at the Peabody Preparatory. In 1999, Mr. Pitta auditioned and was selected to the U.S. Naval Academy Band. In addition to his busy Navy music schedule, Mr. Pitta enjoys performing with area musicians and maintains a private instruction studio.
Aaron Bergeron
Aaron Bergeron (Production Electrician) is a Capitol Area theatre technician whose work credits include: Studio Theatre, The Atlas Performing Arts Center, Shakespeare Theatre Company, Dance Place, Source, and several others. He is happy to be working with the Infinity Theatre Company. He would like to thank his wife Brittany, daughter Amelia, and all of his family and friends for their continued support.
Josh DeBernardi
Josh DeBernardi (Assistant Technical Director) is ecstatic to be a part of this new, up and coming company! A freelance carpenter / electrician in NY, he loves the opportunity to get away from the city life for a while. First season with Infinity. Latest credit is the Deck Carpenter for Tricks the Devil Taught Me (Off-B'way). Enjoy the show and future ones to come!
Alex Gorman
Alex Gorman (Technical Director) is happy to be returning for his second season. His carpentry and other antics have taken him to many states, and hopefully many more to come. During the year he is the TD at the New School for Drama in NYC.
Jana Llynn
Jana Llynn (Production Manager) is delighted to return to the DC/Maryland area where she spent her childhood as an apprentice actor with Street '70/Round House Theatre, and then returned after university to work as a stage manager at The Shakespeare Theatre, Arena Stage, Round House Theatre, and Studio Theatre. Broadway: The Drowsy Chaperone (1st Nat'l Tour); Bridge & Tunnel; Company; The Moliere Comedies. Off-Broadway: SILENCE! The Musical; Freckleface Strawberry; Masked; Drumstruck; Shout! The Mod Musical; Matt & Ben; The Shawl (dir. Sidney Lumet, starring Dianne Weist); Blind Lemon Blues (York Theatre Company); Fifty Words (MCC); George C. Wolfe's Caucasian Chalk Circle, Dancing On Mooonlight, New Works Now (The Public Theater); The Entertainer (CSC); Beau Jest (3 yrs Off-B'way & director for Boston production). Regional: Hartford Stage Company, Crossroads Theatre Company, La Jolla Playhouse, Cleveland Play House, Round House Theatre, Studio Theatre, The Shakespeare Theatre, Arena Stage (4 seasons). Industrials: PSM for Pfizer-Brazil Viagra Launch, PSM for Computer Associates' 20th Anniversary Convention, Co-Supervisor of the Command Center for Fashion Week/Bryant Park, NYC (4 seasons).
Samantha Brewer
Samantha Brewer (Master Electrician) is a graduate of the University of South Dakota with a BFA in Theatre Generalization. She just finished a year long internship in electrics and carpentry at the Olney Theatre Center and is very excited to continue her work in lighting here at Infinity Theatre. Recent designs include: Lighting and Sound Design, Red Riding Hood: A Fable, Olney Theatre Center Institute; Lighting Design, Under The Lintel, Gaithersburg Arts Barn. In her spare time she works for John Farr Lighting Design. After this summer she shall be moving to Little Rock, AK to do a 9 month internship at Arkansas Repertory.
Emily Chalmers
Emily Chalmers (Wardrobe Coordinator) has just completed her first year at Carnegie Mellon university working toward her MFA in Costume Design. She has also gained a BA in Theater Studies at the University of Kent in England. She has worked on many theatrical productions in both the UK and USA among those she has costume designed "A Night Out" by Harold Pinter, "Rough for Theater II" by Samuel Beckett, "WordPlay" by Literally Maniacs as well as assisting on "The Re-Collected Works of Billy The Kid" by Sophia Schrank and "Rent" by Jonathan Larson. She has also worked on a short TV sketch as the costume designer called "The Town of Last Days" at WQED.
Jimmy Mavrikes
Jimmy Mavrikes (Assistant Stage Manager) is a rising senior, B.M. Musical Theatre major at The Catholic University of America. Jimmy is a recent winner of the NSAL Career Competition in Musical Theatre D.C. Chapter. University credits include On the Town, JRB Journey, Man of La Mancha, and a staged reading of a new work for the New York Musical Theatre Festival, Rio. Other credits include Washington Savoyards' Pirates of Penzance, Annapolis Summer Garden Theatre's 25th Annual Putnam County Spelling Bee (Leaf Coneybear), and multiple readings around the DC area with director Alan Paul.
* Member, Actors' Equity Association