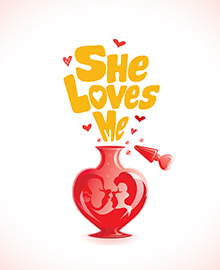 2013
Travel back to the 1930's and the romance of Maraczek's Parfumerie, where your senses will be filled by one of the most lush, most charming musical shows of all, written by the composers of the Broadway classic FIDDLER ON THE ROOF.
The story centers on the dull but adorable manager, Georg, the spirited new clerk, Amalia, and the heated workday arguments between them. Georg and Amalia escape the stress of the parfumerie through passionate letters full of longing to anonymous pen pals – never guessing that each is writing to the other! The two obsess about the coming day when their respective lovers will finally be revealed. In the anxious, ridiculous build-up, Maraczek's is sent into a frenzy, busting out of its exquisite storefront. Humor, intelligence, and warmth abound in SHE LOVES ME!
SHE LOVES ME is full of the highest pedigree of classic American musical theatre, featuring music by Jerry Bock and Sheldon Harnick and a book by Joe Masteroff (CABARET). The 1963 original was produced and directed by Hal Prince, the most prolific Tony Award winner in history. It is the fifth adaptation of the play PARFUMERIE by Miklos Laszlo, following the 1940 Jimmy Stewart movie THE SHOP AROUND THE CORNER, the 1949 Judy Garland musical IN THE GOOD OLD SUMMERTIME, and most recently as the 1998 Tom Hanks and Meg Ryan film YOU'VE GOT MAIL.
SHE LOVES ME makes for a lovely date, is fun for the whole family!