Rodgers and Hammerstein's A Grand Night for Singing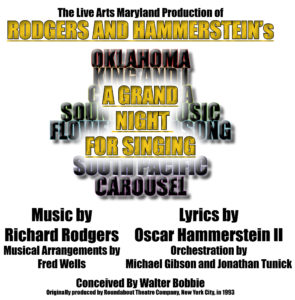 2019
There was a time in our country when the popular songs of the day were from Broadway shows. It was the Golden Age of Broadway, and Infinity will bring you the best of those songs by the most influential artists of this Golden Age, Richard Rodgers and Oscar Hammerstein II. This powerhouse team wrote OKLAHOMA, SOUND OF MUSIC, SOUTH PACIFIC – and that's not even half of their shows, which have helped define what it is to be a post-war American. Infinity Theatre is proud to present the Live Arts Maryland production of the Rodgers & Hammerstein revue A GRAND NIGHT FOR SINGING!
Rodgers & Hammerstein are responsible for so much of the joy and meaning of the American songbook. Their music is represented by some of the greatest singers and musicians of the last seventy-five years, in many different genres, such as Reba McEntire's "A Wonderful Guy," Stevie Wonder's "Hello, Young Lovers," Bob Dylan's "This Nearly Was Mine," and Willie Nelson's "Some Enchanted Evening."
A powerful ensemble of singers and a small, live orchestra under the baton of Live Arts Maryland's Artistic Director J. Ernest Green draw inspiration from this lofty pantheon of pop music titans, to bring Infinity Theatre in Annapolis a polished revue full of interpretation and ingenuity sure to please the discerning ear. If you love theatre, if you love music, if you love the golden age of the confluence of the two – you will not want to miss A GRAND NIGHT FOR SINGING!