Past Children's Productions
Past productions include:

Based on the book KNUFFLE BUNNY: A CAUTIONARY TALE by Mo Willems/Published by Hyperion Books for Children/Script and Lyrics by Mo Willems/Music by Michael Silversher
Based on the beloved Caldecott Honor-winning picture book, KNUFFLE BUNNY: A CAUTIONARY MUSICAL is filled with adventure, drama, and singing and dancing laundry! Six-time Emmy Award winner, Mo Willems, teams up with Grammy Award-winning composer, Michael Silversher, to create this heart warming and hilarious musical.  The story: girl loves stuffed animal. Girl loses beloved animal. Girl fights to get animal back. Trixie, her father, and her favorite stuffed bunny set off on a trip to the Laundromat. The trip brings wonder, excitement and joy to the lively toddler until she realizes that she has left her Knuffle Bunny back at the laundromat. Trixie does everything in her power to make her father understand the emergency, but her father fails to see the issue at hand.
Based on the ELEPHANT & PIGGIE books by Mo Willems/Published by Hyperion Books for Children/Script and Lyrics by Mo Willems/Music by Deborah Wicks La Puma
Get ready for a musical experience ripped from the pages of Mo Willems's beloved, award-winning, best-selling children's books that will leave audiences doing the "Flippy Floppy Floory" dance all night long! In ELEPHANT & PIGGIE'S "WE ARE IN A PLAY!", Gerald and Piggie take to the stage in a rollicking adventure perfect for young audiences. An elephant named Gerald and a pig named Piggie are best, best, "bestus" (a word Gerald and Piggie made up that means "very best") friends. But Gerald worries that something could go wrong that would end their friendship. Piggie is not worried at all. She's even happier and more excited than usual. That's because she and Gerald are invited to a party hosted by The Squirrelles, three singing squirrels who love to have a good time. And so begins a day when anything is possible. Filled with beloved characters and lively songs, ELEPHANT & PIGGIE'S "WE ARE IN A PLAY!" is a perfect way to introduce young people to theatre.
By Clayton Colwell & Alan Ostroff
Two of the greatest fairy tale characters of them all square off in this competition showing the skills of each hero. Jack and Rapunzel sing, dance, and play jokes on each other in this fifty minute musical, showing the power of individuality in the face of a real-life classification of fairy tales! The comedy builds to a fever pitch as the audience gets many surprises about the real selves inside Jack and Rapunzel. JACK VS. RAPUNZEL is part fairy tale, part reality TV show – and all fun!
By Hans Christian Anderson
Adapted by E. Gray Simons III
Grab your royal attire and come hear the latest announcement from the News of the Realm… The Emperor loves fashion! He will spend a fortune in gold and gems for a weaver to create the most fabulous robe ever seen! However, the crafty weaver claims that his beautiful fabric is invisible to those who are hopelessly witless. Will the kingdom be able to see the Emperor's new robe? Will the swindling weaver be found out? Based on the classic folktale by Hans Christian Anderson, this story challenges the imagination and questions perception of leadership and truth, through the eyes of a child. The comedy mounts through outrageous performances, audience participation, original music, and lively dancing. THE EMPEROR'S NEW CLOTHES is a royal romp and fabulous fashion extravaganza for all ages!
By E. Gray Simons III
PINOCCHIO, originally written by Carlo Collodi, was adapted by E. Gray Simons III and premiered at the Berkshire Theatre Group in July 2012 with the Acting Apprentice Company on The Neil Ellenoff Stage, Kate Maguire, Artistic Director.
In this faithful adaptation of the classic Italian folk tale by Carlo Collodi, a poor yet kind-hearted wood carver named Geppetto creates a puppet called Pinocchio from a magical piece of wood. After misbehaving and running away, Pinocchio meets a cast of colorful characters who lead him further astray through thrilling misadventures. But, with the help of the Blue Fairy and the Spirit of the Cricket, he resolves to find Geppetto and fulfill his dream of becoming a real boy. PINOCCHIO is an enchanting story that's sure to entertain audience members of all ages.
By Alan Ostroff
Infinity Producing Artistic Directors Anna Roberts Ostroff and Alan Ostroff are very excited to announce that Infinity Theatre Company and Bay Theatre Company are teaming up to give something special to kids in Anne Arundel County and beyond this summer – actually, two special somethings!
Infinity and Bay are collaborating to present two original shows for children. Building on Infinity's successful 2011 summer run of Stories – Live and In Person, we will bring this clever trio of silly fables introducing kids to the fun of live theatre back to Annapolis. Second, we are proud to present the Annapolis premiere of The Tall Tales of Enoch, a heart-warming tale of a third-grade problem child who makes up tall tales about himself, and fools everyone around him, until his friends show him how to be the most impressive thing of all – himself. Audience participation is encouraged!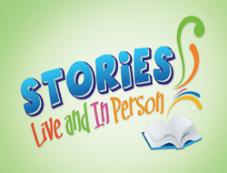 By Alan Ostroff
Infinity's production of Stories – Live and In Person is directed by Stephanie Fittro, and stage managed by Arienne Pelletier. Production design by Nola Denett with assistance from Naomi Raddatz and Kristin Gdula. The Stories – Live and In Person theme was composed by Clayton Colwell.
The show is broken into three short segments. In the first of the three comedic stories, a great Shakespearean actor must teach a spotlight-stealing little girl in the audience how to behave at a show. In the second story, the audience must listen carefully to keep from being tricked by a zany criminal mastermind named Willy the Fork. In the third and last story, two nerdy scientists competing to find the secrets of space and time enlist the audience to help decide their fate.