PigPen Theatre Co. Concert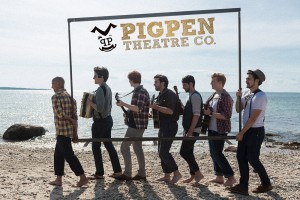 This event is a one-night only concert by the band PigPen Theatre Company. Their debut indie-folk album, "Bremen", was named #10 album of the year in The Huffington Post's 2012 Grammy preview. Their follow up EP, "The Way I'm Running", was premiered by American Songwriter and released on October 8th, 2013. PigPen's untitled second album will be available in the Summer, and will bring them national attention.
"I'm crazy about PigPen and soon you will be too. They're a great rock band that also happens to put on delightful theatrical shows. Or they're a great theatrical troupe that also happens to release terrific albums. Take your pick" – The Huffington Post
"[PigPen] asks us to appreciate the finer arts of wild storytelling, while speaking to the childish mind in all of us." – Ben Brantley, NY Times
Click here for a video of the PigPen guys. And check out PigPenTheatre.com to learn more!
One Night Only!
June 12th, 2015 at 8pm