Infinity's 10th Anniversary Production of The Fantasticks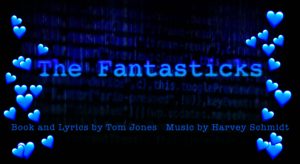 2019
For Infinity's tenth anniversary production, we are reviving the very first musical we presented in Annapolis, before many of our loyal followers even knew that we existed: THE FANTASTICKS. Infinity will stage a new production of this show, so beloved that it holds the distinction of being the longest running show in New York City history.
But time makes for a different world than the one we try to remember, a world possibly unrecognizable to that of the first production of this show in Greenwich Village in 1960; different even then the 2010 production which starred two people at the beginning of their careers as theatre producers, Anna Roberts Ostroff and Alan Ostroff. In 2019, we partly exist on the internet, and we walk between realities via our mobile devices and computers.
This beautifully poetic piece, full of humor, and with one of theatre's most memorable musical scores, is best when experienced in a dynamic, intimate environment, with the actors playing in close proximity to the audience. To this end, Infinity Theatre will be producing this show in a new setting. The audience will be seated onstage at our venue, and immersed in the action, inside Infinity's first ever digital set. Vivid imagery will be projected onto a huge screen, and you will be transported as never before while at an Infinity show.