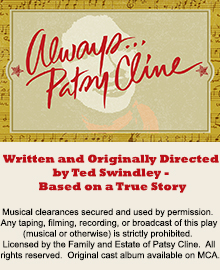 2013
If you haven't seen this show, you don't know the real Patsy! Based on the true story of one wild night in 1961 Houston, when single mom Louise Seger became fast friends with her idol, Ms. Patsy Cline. Louise recreates her evening with Patsy, as well as many of the singer's highlights, in this touching, down-home country musical comedy.
After Louise's local DJ announces that Patsy is performing nearby, Louise saddles up her pink and black Pontiac, nicknamed "Sexy Dude," never expecting that by the end of that night, the celebrity would be in her kitchen laughing and crying over bacon and eggs. Their lives were so different, yet were so full of the same love and heartbreak – everything that makes for a good country song. The next morning, the kindred spirits say so long, but not good-bye; their friendship continues through frequent letters, until Patsy's tragic death in a plane crash at 30 years old.
Infinity Theatre Company will charge the air with the sweet voice of this twentieth century icon, whose short life will be forever remembered by beloved hit songs, many of which appear in the show, such as "Crazy," "Sweet Dreams," and "Walking After Midnight." The title was inspired by Patsy's letters to Louise, signed, "Love ALWAYS… Patsy Cline."
ALWAYS…PATSY CLINE will send you to honky-tonk heaven!