Sisters of Swing – The Story of the Andrew Sisters (2012)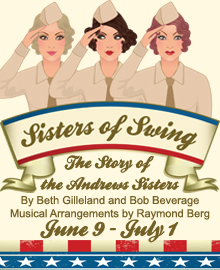 2012
Before there were "Jersey Boys" – there were "Minnesota Girls." Together, LaVerne, Maxene, and Patty gave their hearts to the world. They became world famous as "The Andrews Sisters," working tirelessly to please the producers who furthered their careers. The trio served overseas, helping thousands of soldiers get through World War II, and gave a feeling of security to the home front. There were never such devoted sisters – but their lives were not always as harmonious as their music.
Following up on the Ring-A-Ding-Ding good time presented in 2011 with My Way, A Musical Tribute to Frank Sinatra, Infinity delves into the trials, tribulations, and irresistible tunes of America's favorite singing sisters, the Andrews Sisters, in the memory musical Sisters of Swing.
Best known across the generations for the close harmony and jitterbug rhythm of songs such as "Boogie-Woogie Bugle Boy," "Don't Sit Under the Apple Tree," and "Rum and Coca-Cola," the Andrews Sisters swing away in Annapolis, and their greatest song, dance, and comedy routines come alive!