WHO'S WHO – SISTERS OF SWING – THE STORY OF THE ANDREWS SISTERS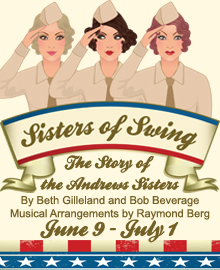 Cast
Julia Burrows

Julia Burrows* (Patty Andrews) recently played "Marian" in The Music Man opposite Peter Scolari (Bosom Buddies, Newhart) at Ogunquit Playhouse. Some favorite credits: Happy Days ("Lori-Beth") produced by Garry Marshall at Goodspeed Opera House and Papermill Playhouse (Original Cast recording); Pirates! ("Cornelia") at Papermill Playhouse; Company at Reprise! L.A. starring Judith Light and Christopher Sieber; Sideshow ("Violet"); Grease ("Sandy"); You're A Good Man Charlie Brown ("Sally"); Into The Woods (SBCLO); Les Miserables (Northern Stage), and Thoroughly Modern Millie in concert ("Millie") directed by Susan Egan. Has performed in many concerts, workshops and readings throughout New York. Many thanks to the whole Infinity team, Michael, Henderson Hogan, Matthew, and amazing family.
Lynsey Buckelew

Lynsey Buckelew (LaVerne Andrews) hails from Alabama and since arriving in New York she has performed in several cabarets, workshops, and readings. Some of her favorite regional credits include Pippi in the GREAT AMERICAN TRAILER PARK MUSICAL to Cinderella in INTO THE WOODS. She also performs with the American Opera Projects in Brooklyn on new contemporary works. Thanks to Infinity for this opportunity, my family for constant support, and CCM. You better count your blessings, people!
Jonathan D. Cable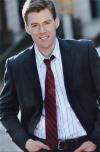 Jonathan D. Cable* (Vic/Pianist) is very excited to join Infinity Theatre Company for Sisters of Swing! He began studying piano when he was 6 years old, and music has always been an integral part of his life. New York City credits include Babes in Toyland at Lincoln Center's Avery Fisher Hall, as well as HMS Pinafore and Ruddigore at City Center. Selected regional credits include West Side Story (Big Deal) at Maine State Music Theatre; Hairspray (Fender) at Ogunquit Playhouse; Hello, Dolly! (Ambrose Kemper) at Arrow Rock Lyceum Theatre; Show Boat (Steve) at Beef and Boards Dinner Theatre. Jonathan's recent on-camera work also includes an Allstate Insurance "Mr. Mayhem" commercial, as well as an appearance in the FOX pilot Guilty starring Cuba Gooding, Jr. Jonathan feels honored to tell the story of such significant figures in music history, and he would like to thank his parents officially for forcing him to suffer through piano lessons as a kid. He also thanks Alan, Anna, Jay, Kim, and David for this opportunity! www.Jonathan-Cable.com
Steve Gagliastro

Steve Gagliastro* (Man) is thrilled to make his Infinity Theatre debut! Other credits- International Tours: CINDERELLA starring Lea Salonga (Broadway Asia), SPONGEBOB SQUAREPANTS: THE SPONGE WHO COULD FLY-Original Cast (Nickelodeon/Broadway Asia), CABARET starring Andrea McCardle (NetWorks Tours) Regional Theatre: FIDDLER ON THE ROOF, CABARET, HELLO DOLLY starring Sally Struthers (Ogunquit Playhouse), MY FAIR LADY, THE FULL MONTY, SISTERS OF SWING(Stoneham Theatre), CLICK CLACK MOO -Original Cast (TheatreWorks USA-John Rando, dir.), SISTERS OF SWING, EVITA, CABARET, TITANIC (Worcester Foothills), THE BUDDY HOLLY STORY (Riverside Theatre, Flat Rock Playhouse, Ivoryton Playhouse), YOU'RE A GOOD MAN, CHARLIE BROWN (Gloucester Stage), 25th ANNUAL…SPELLING BEE (Theatre by the Sea, Majestic Theatre). Gags holds a BA in Music/Education from UMASS, Amherst and is a proud member of AEA.
Jackie Washam

Jackie Washam (Maxene Andrews) is so excited to boogie woogie again after playing Maxene Andrews in Christmas of Swing this past holiday season. Other regional credits include: Camelot (Nimue/Guenevere u/s), Rumors (Cassie Cooper), Fame (Serena Katz), and My Fair Lady. As a singer Jackie has performed at various concerts including appearances at NYC's Town Hall, The Duplex and Joe's Pub. Later this summer she will be making her TV debut on Celebrity Ghost Stories on the Bio channel. Jackie is a proud graduate of NYU/Tisch and CAP21. Much love to Blaum, Dad, Josh and Rick. This one's for you Grandpop! www.JackieWasham.com
Lance E. Hayes
Lance E. Hayes (Ensemble, Assistant Stage Manager, Season Intern) Lance is currently working on his BM in Musical Theatre at The Catholic University of America where he performed in On the Town and Cabaret. He has also been seen at Toby's Dinner Theatre of Columbia and Baltimore in CATS, Cinderella, and the regional premiere of Happy Days: The Musical. Some of his favorite roles include Cogsworth in Beauty and the Beast and Bobby in Curtains. He can't seem to get away from the stage and is thrilled to be working with everyone at Infinity Theatre this summer. He hopes you enjoy the show.
Jimmy Mavrikes
Jimmy Mavrikes (Ensemble, u/s Man, Season Intern) is a rising senior, B.M. Musical Theatre major at The Catholic University of America. Jimmy is a recent winner of the NSAL Career Competition in Musical Theatre D.C. Chapter. University credits include On the Town, JRB Journey, Man of La Mancha, and a staged reading of a new work for the New York Musical Theatre Festival, Rio. Other credits include Washington Savoyards' Pirates of Penzance, Annapolis Summer Garden Theatre's 25th Annual Putnam County Spelling Bee (Leaf Coneybear), and multiple readings around the DC area with director Alan Paul.
Dan Reardon
Dan Reardon (u/s Vic) is thrilled to be working with Infinity Theatre Company this summer! A native of Wakefield, MA, he is currently pursuing a BFA in Musical Theatre at Syracuse University. Recent credits include The Lion, the Witch, and the Wardrobe at Syracuse Stage and The Cradle Will Rock at Syracuse University. Also at Syracuse University, he recently appeared in a staged reading of Like You Like It as Phil, and will appear as Charley Kringas in Merrily We Roll Along in the fall. Dan expresses his gratitude to Alan and Anna for this amazing opportunity! Love to Mom, Dad, and Caroline.
Kimberly Wilpon
Kimberly Wilpon (u/s LaVerne/Maxene/Patty, Season Intern) is proud to join the Infinity Theatre Company for this summer season. She has most recently toured with Arts Power National Touring Theatre playing Cat (Are You My Mother?) and Helen/Athena (Jigsaw Jones). Recent credits include the role of Marty (Grease) at The Booth Theater, Green Girl (Shout!: The Mod Musical) at Marymount Manhattan College from which she graduated in May 2011. Favorite roles include Antonia (Man of La Mancha), Gilmer (Godspell), Fritzie (Cabaret), Zaneeta (The Music Man), and Chava (Fiddler on the Roof). Kimberly would like to dedicate this summer to her family for always giving unconditional love.
JZ Zaeske
JZ Zaeske (Ensemble, Assistant to the Choreographer, Assistant Stage Manager, Season Intern) is currently an undergraduate at The Catholic University of America. Her most recent performance credits include: Helga in Cabaret, Rajah Bimmy Girl in On the Town, Diana in Nine, Pearl Lady in Thoroughly Modern Millie at Benjamin T. Rome School of Music; Dance Captain/Ensemble in Meet Me in St. Louis at Montgomery College Summer Dinner Theater; Ghost of Christmas Future in A Christmas Carol at Steel Beam Theater; Adelaide in Guys & Dolls at Paramount Theater. Her most recent choreography credits include: Annie Get Your Gun, Kiss Me Kate at Gonzaga College High School; 12 Dancing Princesses, The Little Mermaid, Pinocchio, Robin Hood at Steel Beam Theater Children's Theater; Requiem, Enchantress at Catholic University. Her guest choreography credits include: The Last Five Years at Limelight Theater & 1st Stage; Over the Tracks at Steel Beam Theater Children's Theater; A Christmas Carol at Gonzaga College High School. Her assistant choreography credits include: Oklahoma at Theater on the Hill. She is also the Founder of Pure Alignment Dance Company at Catholic University as well as having resided as Artistic Director of the Company for two years during which she choreographed a number of pieces for the company. She has also attended prestigious summer programs such as: Carnegie Mellon's Pre-College Summer Program, Flying Swan Acting Conservatory, and Broadway Theater Project.
CREATIVES AND CREW
Jay D. Brock
Jay D. Brock (Director) is a Professor of Musical Theatre at The Catholic University of America as well as the Producing Artistic Director of Limelight Theatre, for which he has recently directed The Last Five Years and Closer than Ever. Recent professional credits include the regional premiere of F#@king Up Everything produced by Off the Leash Productions/New Musical Foundation at The Woolly Mammoth Theatre Company, Imagination Stage: East of the Sun and West of the Moon, The international tour of: In the Beginning, Opera AACC: Naughty Marietta, Bright Alchemy Theatre Company:When the Stars Go Out, OperaTheatre of Northern Virginia: Tango!Tango!, Opera Alterna: Padrevia, Dido & Aeneas, Signor Deluso, The Women, & Magnum Opus, Journeymen Theatre: Ubu Roi, and the world premiere of Life in Death at the Kennedy Center. Notable LosAngeles area credits include; PasadenaPlayhouse: Dance for Her; Boo Box Productions: Eleemosynary; Ensemble Theatre: Zeno's World; Dana Point Theatre Company: After Hours in the Whale Room. Recent university credits include: Cabaret, Suor Angelica, La Voix Humaine, The Serpent Woman, The Magic Flute, The Tragical History of Dr. Faustus, Trouble in Tahiti, The Medium, In Good King Charles' Golden Days, and The Frogs. In addition, Jay has credits with Folger Theatre, Synetic Theatre, The Los Angeles Theatre Center, Theatre J, Anteus Classical Theatre Ensemble, Essential Theatre. www.JayDavidBrock.com
Michael Cassara
Michael Cassara, CSA (Casting Director) is thrilled to return for a third season with Infinity! Recent credits include Fat Camp (off-Broadway), The City Club (Minetta Lane), Heat Wave: The Jack Cole Project (dir. Chet Walker/Queens Theatre), The Man Who Came To Dinner (Peccadillo), Falling For Eve (York Theatre), Kingdom (The Old Globe). Upcoming projects include the off-Broadway return of Forbidden Broadway, Pal Joey (Barn Theatre), the feature film "Contest", and the 2012 New York Musical Theatre Festival. Native Clevelander. Member, Casting Society of America. Please visit MichaelCassara.net. @michaelcassara
David Libby
David Libby (Music Director) is thrilled to be working with the amazing team at Infinity for the third year in a row. Music Director credits include: Play it Cool (Off-Broadway, also played "Smokey"); That Other Woman's Child (Off-Broadway); Shadow Sparrow (O'Neill SMTC); The Fantasticks, Little Shop of Horrors (Music Supervisor), and My Way (Infinity Theatre Company); Little Mary and Golden Prospects (off-off Broadway). David played keyboards on the tours of Kiss Me Kate (First National Broadway Tour) and Beauty and the Beast (Las Vegas), and also worked as pianist on the national tours of Hairspray, The Drowsy Chaperone, Oliver!, and Spring Awakening (among others). He is currently arranging songs from the MGM catalog for Chasing Rainbows, a new musical about the early life of Judy Garland, in development with EMI Music Publishing, book by Thomas Meehan. B.A. Bowdoin College, M.M. Rutgers University.
Kimberly Schafer
Kimberly Schafer (Choreographer) received her Bachelor of Performing Arts in Dance Performance from Oklahoma City University. Since then she has performed, choreographed, and taught across the United States. She was assistant choreographer for "Dancing on a Dream" at The Duke Theatre in New York. Her regional choreography credits include "Crazy for You", "Godspell", "Joseph and the Amazing Technicolor Dreamcoat", "You're a Good Man Charlie Brown", and many more. She has taught at Dance New Amsterdam, Radio City Music Hall, and various studios around the New York area. Most recently she performed in "Broadway Bares XXI" produced by Jerry Mitchell and directed by Josh Rhodes, and "Easter Bonnet" at The Minskoff Theatre for Equity fights Aids. She also performed in "Broadway on Broadway", a show in Times Square that features music selections from current Broadway shows. She has also had the privilege to perform at the Tap Extravaganza/Flo Bert Awards in 2010 and 2006. She has performed in various regional productions such as "Funny Girl", "Crazy for You", "Singin in the Rain", "The Will Rogers Follies", "Cabaret", "Victor, Victoria", and the National Tour of "42nd Street". Her choreography credits range from musical theatre to master classes to music videos.
Anshuman Bhatia
Anshuman Bhatia (Co-Lighting Designer) is excited to be back in Annapolis with Infinity Theater Company! After graduating from NYU with his MFA in Design for Stage and Film he is ready for a lifetime of new and exciting challenges. Recent designs include As You Like It (Columbia, Scenic), a cautionary tail (NYU,), …things i found on craigslist, Little Shop of Horrors and My Way (Infinity Theatre Company), Major Barbara (NYU). Other assisting work includes Death Takes a Holiday (Roundabout). www.BhatiaDesign.com
Jessa-Raye Court
Jessa-Raye Court (Costume Designer) NYC: Rags (Marymount Manhattan), Tea & Sympathy (Ripple Effect), 1000 Blinks (theNEST), Rosencrantz and Guildenstern are Dead (Big Rodent), Week 41 365 Days/ 365 Plays (Classical Theatre of Harlem) Regional: Hamlet (Reduxion Theatre Company)The Crucible (Rutgers Theater Company), Help Yourself (Williamstown Theatre Festival). MFA: Mason Gross School of the Arts, Rutgers University.
Jake Ewonus
Jake Ewonus (Set Designer) is very grateful to be making his debut at Infinity Theatre Company as this season's scenic designer. He is originally from New York, but is currently in the DC metro area receiving his MFA in scenic design from the University of Maryland. He's worked at Studio Theatre, Signature Theatre, Wooly Mammoth Theatre, and is currently in pre-production as Production Designer on his third and fourth films which are yet to be titled.
Jimmy Lawlor
Jimmy Lawlor (Co-Lighting Designer) is thrilled to be returning to Infinity Theatre Co! Last year Jimmy lit Little Shop of Horrors. Originally from the metro DC area, Jimmy moved to NYC and received his MFA in Lighting Design at New York University. Jimmy's New York work as been seen at St. Clement's Theatre, Theatre Row, HERE Arts Center, NYU, Columbia University, among others. Regional work includes The Kennedy Center, Arena Stage, and in both spaces of The Shakespeare Theatre. Upcoming projects include lighting shows for River Valley Rep in Poughkeepsie, NY, as well as returning to Robert Wilson's Watermill Center to light site-specific art installations. www.LawlorDesign.com
Wes Shippee
Wes Shippee (Sound Designer) is a recent NYU graduate and Drama Desk-nominated sound designer, audio engineer, and musician. Notable projects include the Radio City Christmas Spectacular and six years of work with RadioTheatre NYC, garnering multiple New York Innovative Theatre awards. Wes recently mixed mainstage shows aboard Norwegian Cruise Line's Pride of America in Hawaii as Head Audio Engineer. He is also the keyboard player for Grammy-winning artist Moneybrother. He is thrilled to be spending his third Summer season in Annapolis with Infinity.
Jana Llynn
Jana Llynn* (Production Stage Manager) is delighted to return to the DC/Maryland area where she spent her childhood as an apprentice actor with Street '70/Round House Theatre, and then returned after university to work as a stage manager at The Shakespeare Theatre, Arena Stage, Round House Theatre, and Studio Theatre. Broadway: The Drowsy Chaperone (1st Nat'l Tour); Bridge & Tunnel; Company; The Moliere Comedies. Off-Broadway: SILENCE! The Musical; Freckleface Strawberry; Masked; Drumstruck; Shout! The Mod Musical; Matt & Ben; The Shawl (dir. Sidney Lumet, starring Dianne Weist); Blind Lemon Blues (York Theatre Company); Fifty Words (MCC); George C. Wolfe's Caucasian Chalk Circle, Dancing On Mooonlight, New Works Now (The Public Theater); The Entertainer (CSC); Beau Jest (3 yrs Off-B'way & director for Boston production). Regional: Hartford Stage Company, Crossroads Theatre Company, La Jolla Playhouse, Cleveland Play House, Round House Theatre, Studio Theatre, The Shakespeare Theatre, Arena Stage (4 seasons). Industrials: PSM for Pfizer-Brazil Viagra Launch, PSM for Computer Associates' 20th Anniversary Convention, Co-Supervisor of the Command Center for Fashion Week/Bryant Park, NYC (4 seasons).
Daniel M. Hall
Daniel M. Hall (Bassist), a Native of Portland, Maine, Dan Hall has been a professional bass player since 1965. He is a graduate of The University of Maine and attended the New England Conservatory of Music. He has played in symphony orchestras in Maine, Massachusetts, Nevada, Texas, Missouri, Arkansas and Virginia. He performed in casino house bands in Reno and Lake Tahoe from 1978 through 1994. After three years as a freelance musician in Austin, Texas he accepted a job in Branson, MO, playing seven years with the Live Lawrence Welk Show and two years with Les Brown's Band Of Renown. Since moving to Virginia in 2006 he has performed with numerous local jazz ensembles, been in pit orchestras at Ford's Theater, Signature Theater, Arena Stage, The Hippodrome, and The Kennedy Center and is a member of the adjunct music faculty at Montgomery College in Rockville, MD. He and his wife, Trish, have a home in Falls Church, Virginia.
Mike Ranelli
Mike Ranelli (Percussion) is one of the busiest freelance percussionists in the area. Credits include The Producers, Camelot, Peter Pan, Fiddler on the Roof, 1776, Godspell, Annie, Joseph and the Amazing Technicolor Dreamcoat, Crazy for You, Footloose, Anything Goes, Once on This Island, Kismet, The King and I, Sound of Music, Grease, South Pacific, Once Upon a Mattress, Triumph of Love, Call of the Wild, and Eubie. In addition to theatre work, he performs regularly with the National Symphony, Annapolis Symphony, Maryland Symphony and numerous opera, choral and chamber ensembles. Mike is also the percussion specialist at Annapolis Area Christian School, where he directs the AACS Summer Percussion Camp. He teaches privately at his home studio in Millersville.
Josh DeBernardi
Josh DeBernardi (Assistant Technical Director/Deck Supervisor) is ecstatic to be a part of this new, up and coming company! A freelance carpenter / electrician in NY, he loves the opportunity to get away from the city life for a while. First season with Infinity. Latest credit is the Deck Carpenter for Tricks the Devil Taught Me (Off-B'way). Enjoy the show and future ones to come!
Renana Fox
Renana Fox (Assistant to the Director) is thrilled to be working with Infinity Theatre. Most recently she assistant directed a sci-fi re-imagining of The Tempest with Lean and Hungry Theater and the hip-hop musical P. Nokio at Imagination Stage. She has directed staged readings for Spooky Action Theater, Imagination Stage, and Inkwell Theatre and looks forward to directing Boom! for Artists Initiative this coming fall. Thanks to Jay, the production team and the cast and crew for this opportunity and to her family and friends for their continued support.
Alex Gorman
Alex Gorman (Technical Director) is happy to be returning for his second season here. His carpentry and other antics have taken him to many states, and hopefully many more to come. During the year he is the TD at the New School for Drama in NYC.
Jennifer Reiser
Jennifer Reiser (Master Electrician) is pleased to be working with Infinity Theatre Company for the first time. A lighting designer and electrician, she has worked locally with Centerstage, Signature Theater, Arena Stage, Synetic Theater, and Single Carrot Theatre. Jennifer is a graduate of Dartmouth College and an MFA Candidate at New York University's Tisch School of the Arts.
Samantha Brewer
Samantha Brewer (Production Assistant, Season Intern) is a graduate of the University of South Dakota with a BFA in Theatre Generalization. She just finished a year long internship in electrics and carpentry at the Olney Theatre Center and is very excited to continue her work in lighting here at Infinity Theatre. Recent designs include: Lighting and Sound Design, Red Riding Hood: A Fable, Olney Theatre Center Institute; Lighting Design, Under The Lintel, Gaithersburg Arts Barn. In her spare time she works for John Farr Lighting Design. After this summer she shall be moving to Little Rock, AK to do a 9 month internship at Arkansas Repertory.
Emily Chalmers
Emily Chalmers (Wardrobe Coordinator, Season Intern) has just completed her first year at Carnegie Mellon university working toward her MFA in Costume Design. She has also gained a BA in Theater Studies at the University of Kent in England. She has worked on many theatrical productions in both the UK and USA among those she has costume designed "A Night Out" by Harold Pinter, "Rough for Theater II" by Samuel Beckett, "WordPlay" by Literally Maniacs as well as assisting on "The Re-Collected Works of Billy The Kid" by Sophia Schrank and "Rent" by Jonathan Larson. She has also worked on a short TV sketch as the costume designer called "The Town of Last Days" at WQED.
*Member, Actors' Equity Association