WHO'S WHO – A CLOSER WALK WITH PATSY CLINE
CAST
Andy Baldwin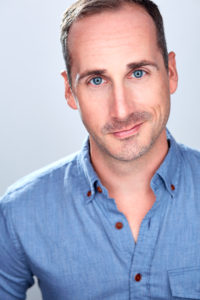 ANDY BALDWIN* (Little Big Man, Et. Al.) is a Dallas native who now resides in NYC. Andy studied at Circle In The Square on Broadway and spent 8 years as a Resident Artist at Casa Mañana. While at Casa, Andy performed in over 60 productions including Alan Menken's A CHRISTMAS CAROL, SEUSSICAL, THE FANTASTICKS, and YOU'RE A GOOD MAN CHARLIE BROWN. Other regional credits include roles in GRAND HOTEL, ANYTHING GOES, INTO THE WOODS, THE FULL MONTY, THE PILLOWMAN, BOEING BOEING, and TRAILER PARK: THE MUSICAL.
Laura Stracko

LAURA STRACKO* (Patsy Cline) is so excited to be here! A PA native, she now resides in NYC where she sings with the St. Francis of Assisi music ministry. Off Bway: ALLEGRO, ASTORIA STORIES. National Tours: DAMN YANKEES, A CHRISTMAS CAROL Regional credits: SISTER ACT, MAMMA MIA, LES MISERABLES, RENT, GODSPELL, HAIRSPRAY, AUGUST: OSAGE COUNTY, PETER PAN, FOOTLOOSE, BAD JEWS, and more! www.laurastracko.com Instagram: @thisislaurastracko Special thanks to Todd & Nikki at ATB Talent, Anna & Alan for this incredible opportunity, my Biggie, and my beautiful family. Mops & Pops, I'll be loving you always, this is for you.
CREATIVES AND CREW
Tommy Iafrate

TOMMY IAFRATE (Director/Music Director) is thrilled to return to Infinity! He previous co-directed MILLION DOLLAR QUARTET and directed/choreographed ELEPHANT & PIGGIE'S WE ARE IN A PLAY and JACK VS. RAPUNZEL: THE MUSICAL. He will also direct this summer's production of KNUFFLE BUNNY: A CAUTIONARY MUSICAL. Tommy is the Director of Musical Theatre at Binghamton University, and formerly served as Producing Artistic Director of the Clinton Area Showboat Theatre. He freelances as a director and musical director, holds an MFA in Directing from Western Illinois University, and is an associate member of the Stage Directors and Choreographers Society. Tommy is so grateful to Anna and Alan for the opportunity to spend a third summer creating theatre magic in Annapolis!
Quinn Stone

QUINN STONE/STONEDOG STUDIOS (Scenic Design & Fabrication) StoneDog Studios is a design and fabrication scene shop providing creative solutions for film, television, theater, photography, exhibits and
marketing events since 2008. We are one of the few woman-owned and operated scene shops, providing premiere production design and set / prop fabrication. We are a collection of creatives who have worked in the industry for a 20+ years. We are also moms. Hardworking, creative moms with a no nonsense approach to business. We multitask like no other and we make sure our clients' needs are met. We take care of what is keeping you up at night so you don't have to. We seriously love a challenge, the more ludicrous the better.
Nathan Hawkins

NATHAN HAWKINS (Lighting Design/Assoc. Technical Director/Master Electrician) is excited to be back at Infinity again this year. He has been the Master Electrician for the past several years, as well as the Lighting Designer for ELEPHANT AND PIGGIE'S WE ARE IN A PLAY,  JACK VS. RAPUNZEL: THE MUSICAL. Awards: VIV: BLOOD AT THE ROOT (nominated). Nathan is first-year MFA candidate at The California State University Long Beach. BFA The Pennsylvania State University. Online at hawkinslighting.net.
Kristina Martin
KRISTINA MARTIN (Costume Design/Wardrobe Supervisor) is a DC-based theatrical costume designer. A 2014 graduate of The College of William and Mary, she received a degree in technical theatre, focusing on Costume Design and Wardrobe. Post-graduation, she relocated to the DC area to be the Resident Costume Designer for NextStop Theatre Company in Herndon, VA, where she would design more than 20 productions. This season, Kristina's work extended to Keegan Theatre, where she designed SIX DEGREES OF SEPARATION. She also joined Washington National Opera as an Assistant Costume Coordinator, while designing EURYDICE, WILLY WONKA, BOEING BOEING, and URINETOWN for NextStop Theatre Company. Her previous work with Infinity includes MILLION DOLLAR QUARTET and ALMOST HEAVEN. To learn more, visit her website at KristinaMartinDesign.com.
Wes Shippee
WES SHIPPEE (Sound Design/Engineer) is an NYU graduate and Drama Desk-nominated sound designer, audio engineer, and musician. Notable projects include the Radio City Christmas Spectacular and eleven years of work with RadioTheatre NYC, garnering multiple New York Innovative Theatre awards. Wes regularly designs for Norwegian Cruise Line and is the house sound engineer at the New School for Drama. He's happy to return to Annapolis for his eighth summer with Infinity Theatre Company. For more information, visit www.wes.sh.
Kristin Loughry
KRISTIN LOUGHRY* (Production Stage Manager) is glad to be back for a third summer in Annapolis! She is based in New York City. Previous Infinity credits: MILLION DOLLAR QUARTET, ALMOST HEAVEN and RING OF FIRE. Other credits include THAT FACE (Baltimore Center Stage), COMPANY (Lyric Stage Boston), PITBULLS (Rattlestick Playwrights Theatre), BILL W. AND DR. BOB (Soho Playhouse), IN TRANSIT (Primary Stages), THE NUTCRACKER (Gelsey Kirkland Ballet), A ROCKIN' MIDSUMMER NIGHT'S DREAM (12.14 Foundation), HOW TO BREAK (National Theatre in Oslo), three seasons with the Hangar Theatre in Ithaca, NY and six seasons with NYU's Grad Acting program. Graduate of Ithaca College.
Morgan Leigh Beach

MORGAN LEIGH BEACH* (Assistant Stage Manager) is currently pursuing her MFA in stage management at Columbia University in the City of New York. Selected Credits Include: US. Premiere of Adam Rapp's WOLF IN THE RIVER at the Flea Theater (PSM), NICE WORK IF YOU CAN GET IT, 9 TO 5, THOROUGHLY MODERN MILLIE, FIDDLER ON THE ROOF, SINGIN' IN THE RAIN, and more at Garland Summer Musicals (PSM).  World Premiere of Renegade Animation's CHRISTMAS IS HERE AGAIN, MY FAIR LADY, Margaret Atwood's THE PENELOPIAD at Pacific Conservatory Theatre (ASM). THE TEMPEST directed by Aaron Posner and Teller at Chicago Shakespeare Theater (PA).  Go Navy!
Josh DeBernardi
JOSH DEBERNARDI (Technical Director) is happy to be back for his fifth consecutive season with the Infinity Team!  He is New York based, but has recently been on the road with ONCE the Musical as their Head Carpenter.  He expects to be on the road again starting this fall with THE SOUND OF MUSIC tour.  He would like to thank Anna, Alan, Jeremy and the rest of the team for another wonderful season and their relentless support! Thank you for coming out to support Infinity! We hope you enjoy the show!

Katharina Fernandez

KATHARINA FERNANDEZ (Costume Design Assistant Intern) is a rising senior attending Lasell College, within the Greater Boston area. She is pursuing a BA in Fashion Design and Production with a minor in Fashion Merchandising. She's excited to be joining Infinity Theatre for my first year and to be assisting with my first shows, A CLOSER WALK WITH PATSY CLINE and GODSPELL! I would like to thank Infinity Theater for this amazing opportunity. Lastly, thanks and love to Madison for introducing me to the world of theater. Keep chasing your dreams!
Molly Walz

MOLLY WALZ (Wig Designer & Hair Consultant) is a NYC based costume/wig designer born in Dayton, OH.  Her work has been seen throughout the country as a designer, technician, and costume shop manager.  Favorite wig designs include THE LIFE AND ADVENTURES OF NICHOLAS NICKELBY and LES MISERABLES (Orlando Shakespeare Theatre), as well as MILLION DOLLAR QUARTET for Infinity last year.  A few favorite costume designs include MILLION DOLLAR QUARTET (Ogunquit Playhouse/ Papermill Playhouse) and THE WIZ (Barrington Stage).  In addition to being a designer, Molly is a proud IATSE wardrobe technician, having just finished a year supervising RENT: 20TH ANNIVERSARY TOUR.  MollyWalz.com
Meagan Spry

MEAGAN SPRY (2nd Assistant Stage Manager/Stage Management & Technical Intern) is a stage management student at the University of the Arts in Philadelphia. University credits include FOLK WANDERING, ANNIE SALEM: AN AMERICAN TALE, and A LITTLE NIGHT MUSIC in the Polyphone Festival, and MARIE CHRISTINE. Other credits include YOUNG FRANKENSTEIN at the Villager's Theater and [TITLE OF SHOW] at the Annapolis Summer Garden Theater.
Bob Abbott

BOB ABBOTT (Bass) a freelance bass player and arranger in the Mid Atlantic region. His performance experiences range from local events to being a clinician and featured performer at International music festivals in Croatia.  Bob is an endorsed artist for JanAid Basses, GuitarStrap.It, Acme Bass Speakers & Guardian Pro Cables.In addition to Bob's career in performance he is the Choral and Guitar Director at Crofton Middle School in Anne Arundel County. Bob has always enjoyed playing in Pit Orchestras and enjoyed playing BABY and being Brother Jay in MILLION DOLLAR QUARTET with Infinity Theater Company. He is looking forward to another great season.
JP Coletta

JP COLETTA (Conductor/Keyboard) is ecstatic to be returning to the Infinity stage! Last summer, JP was seen as the killer himself, Jerry Lee Lewis, in MILLION DOLLAR QUARTET for which he received a Helen Hayes nomination for "Best Lead Actor in a Musical." JP is currently a rising senior at The Boston Conservatory, pursuing a BFA in Musical Theatre. Regional credits include: THE SOUND OF MUSIC and A MUSICAL CHRISTMAS CAROL (PCLO), JESUS CHRIST SUPERSTAR and WHITE CHRISTMAS (LPPAC). Other favorite credits include: LITTLE SHOP OF HORRORS, SWEENEY TODD, COLUMBINUS, and SIDE SHOW. As a music director some favorite credits include: SWEENEY TODD and THE GREATEST MUSICAL EVER (New Musical Workshop). Thanks to Alan, Anna, and the whole Infinity team! Love to my wonderful support system of friends, family, and mentors.
Jay McCarthy

JAY MCCARTHY (Guitar/Fiddle) is absolutely thrilled to be working with Infinity Theatre Company this summer. Following his internship with the Company, Jay will be attending The University of Massachusetts Boston in the liberal arts program. In his high school years, Jay has been involved in various shows onstage including EVITA, LES MISÉRABLES and KISS ME KATE to name a few. He is also involved with playing violin in pit orchestras for shows such as AIDA. He also performs with the Baltimore Symphony Youth Orchestra. Jay would like to thank his past directors for getting him to where he is now and thank his mom and sister for endless support and love.
Mark Lucas

MARK LUCAS (Percussion) attended the University of Cincinnati College Conservatory of Music where he studied Jazz and Studio Performance under the direction of drummer John Von Ohlen (Stan Kenton, Rosemary Clooney). Professional playing experience includes performances with international blues star Eugene Hideaway Bridges at Pier 54 in NYC, a live recording date at the Sirius/XM Studios in Washington, DC, two appearances at the Toronto Blues Festival, the Heritage Music and Blues Fest in Wheeling West Virginia, and the Poconos Blues Festival.  Other highlights include performances with legendary keyboardist Johnny Johnson (Chuck Berry); The Coasters; Two tours of England with boogie-woogie piano great Daryl Davis, an Armed Forces Entertainment tour of Central America and show band and jazz quintet drummer on Carnival Cruise Lines. Theater productions include ANNIE GET YOUR GUN and GODSPELL.
Dakarai Brown

DAKARAI BROWN (Offstage Singer/Acting Intern) is so excited to be making his professional debut in his hometown of Annapolis after completing his first year at Ithaca College's BFA Musical Theatre program! Being an alum of both CTA and the Infinity Theatre High School Internship, he feels blessed to be able to continue his relationship with this incredible company as a college intern this season. Favorite roles include Troy in FENCES, and Donkey in SHREK THE MUSICAL. Many thanks to Infinity Theatre Company for this opportunity.
Brooke Bloomquist

BROOKE BLOOMQUIST (Understudy for Patsy Cline/Acting Intern) is thrilled to be a part of Infinity Theatre's summer season! She is a rising junior pursuing a BFA in Musical Theatre at Coastal Carolina University. Regional credits include ACE, A NEW MUSICAL (Signature Theatre) and A CHRISTMAS CAROL (Ford's Theatre). Other favorite productions are INTO THE WOODS (The Witch), HAIRSPRAY (Amber Von Tussle), OKLAHOMA! and THE 1940s RADIO HOUR. She is incredibly thankful for her parents' support.
Katie Rey Bogdan

KATIE REY BOGDAN (Production Assistant/Acting Intern) is absolutely thrilled to be a part of Infinity Theatre Company's 2017 Season. She is a D.C. based actress who has recently completed her Bachelor's of Music at The Catholic University of America. Recent performance credits include LITTLE WOMEN (u/s Marmee, Aunt March), CITY OF ANGELS (Angel City Four Alto), and THE MOST HAPPY FELLA (Marie). Her directing credits include URINETOWN (Assistant Director; NextStop Theatre Company), CHILDREN OF EDEN (CenterStage Theatre Company), and SIDE SHOW (Assistant Director; Montgomery College Summer Dinner Theatre).
Marc Pavan

MARC PAVAN (Offstage Singer/Understudy for Big Little Man, Et. Al./Acting Intern) Red Branch Theatre Company: HEATHERS: THE MUSICAL. The Catholic University of America: CITY OF ANGELS, INTO THE WOODS, THE MOST HAPPY FELLA. Montgomery College: SIDESHOW, LEGALLY BLONDE, SEUSSICAL, THE WIZ.
Danielle Wirsansky

DANIELLE WIRSANSKY (Producing Apprentice) is a playwright, director, dramaturg, and producer whose plays and musicals include SHADOW OF DARKNESS (Moore Auditorium, 2017), ALARM OF THE PEOPLE (Greensboro Fringe Festival, 2017/Orlando International Fringe Festival, 2017/Florida State University, 2017), CITY OF LIGHT (New Horizons Original Works Festival 2016), FALLING IN LOVE IS SUCH AN EASY THING TO DO (Augusta Conradi Studio Theatre, 2014), BLONDE
(Douglas Anderson Black Box Theatre, 2012/ Augusta Conradi Studio Theatre, 2014). Short plays WHITE MOUSE, LAW MAKERS, HEART BEATS, and THE VULGARITY OF GRACE have been produced at festivals around the USA and internationally. She is also a founder and president of White Mouse Theatre productions, a theatre company dedicated to social change.
Jeremy Joseph Ehlinger

JEREMY JOSEPH EHLINGER (Associate Producer) is thrilled to be working with Infinity! He started with Infinity in 2011 and has assisted in producing HANK WILLIAMS, I DO! I DO!, RING OF FIRE, BABY, ALMOST HEAVEN and MILLION DOLLAR QUARTET. He was also the Producing Assistant for the Broadway Revival of the Tony Award-nominated DAMES AT SEA. Prior to working year-round for Infinity, Jeremy worked in the casting departments for the Tony Award-winning Chicago Shakespeare Theater as well as for Bob Cline Casting, helping to cast the national tours of BEAUTY AND THE BEAST and ELF. As a director, he has staged Infinity's BROADWAY NIGHT as well as the new play BURNOUT for the Midtown International Theatre. This past year, he independently produced APHRODISIAC at Loft227 in NYC. Jeremy holds a BA in Drama from Ithaca College and is a proud alum of the National Theatre Institute at The Eugene O'Neill Theater Center.
*Member, Actor's Equity