WHO'S WHO – MURDER FOR TWO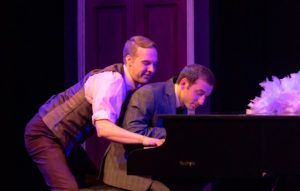 CAST
John Wascavage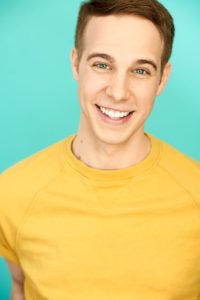 JOHN WASCAVAGE* (The Suspects) is thrilled to be making his Infinity Theatre debut! National Tour/Canadian Premiere: The Suspects in MURDER FOR TWO. NYC/ Regional Credits: UP AND AWAY, A GRAND NIGHT FOR SINGING, 'S WONDERFUL (Pittsburgh CLO); A NEW BRAIN (Front Porch Theatrical); THE COCOANUTS, MURDER FOR TWO (Utah Shakespeare Festival); FOR GOODNESS SAKE (Musicals Tonight!); BLOODY BLOODY ANDREW JACKSON (Piper Theatre); SUPERSOLDIER (Fundamental Theater Project); CANDIDE (Quantum Theatre); THE HISTORY BOYS (Pittsburgh Irish and Classical Theatre). Proud member of AEA. Twitter/ Instagram: @JohnWascavage.
Eric Longo
ERIC LONGO* (Marcus) is a Philadelphia based singer, actor, and music director. Notable acting credits include MURDER FOR TWO and PLAID TIDINGS at The Civic Light Opera of Pittsburgh, FUNNY MONEY and JOSEPH…DREAMCOAT at Mountain Playhouse, SOUTH PACIFIC at Delaware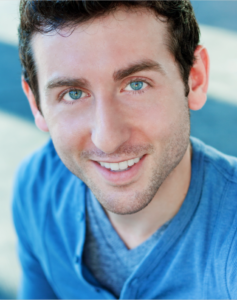 Theatre Company, TOMMY and CHICAGO at Media Theater, and the Broadway revival production of CHICAGO aboard Royal Caribbean's Allure of the Seas, where he performed throughout the Caribbean. As a music director, Eric has had the pleasure to work on productions such as: JAMES AND THE GIANT PEACH, ANNIE, THE DROWSY CHAPERONE, SHREK, THE LITTLE MERMAID, THE 25TH ANNUAL…SPELLING BEE and the Philadelphia premier of THE HUNCHBACK OF NOTRE DAME. When he's not on stage, Eric spends his time as a church music/choir director in Springfield, Pennsylvania. He also has the privilege of teaching private voice lessons out of his Philadelphia based vocal studio. Eric holds his Master of Music from Rice University's Shepherd School of Music, and his BFA from Carnegie Mellon University. Many thanks to Alan, Anna, John, and everyone at Infinity Theatre Company. Much love to friends, family, and without a doubt, Adam.
Alejandro Navarro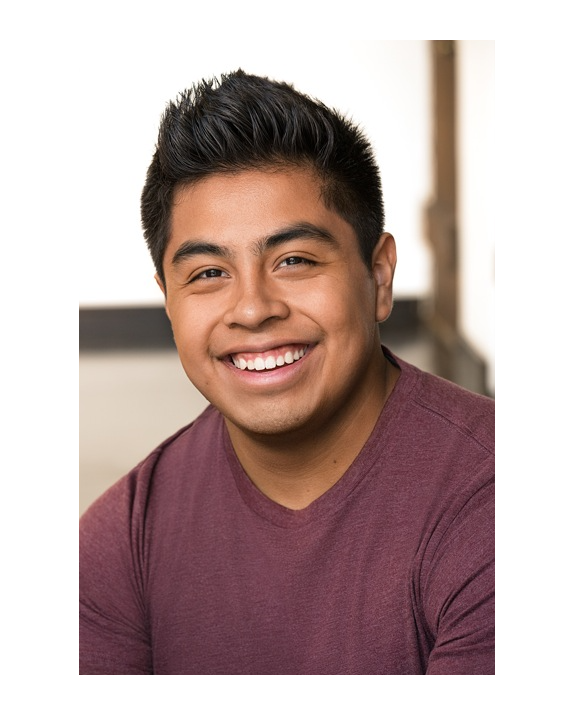 ALEJANDRO NAVARRO (Understudy/Acting Intern) could not be more excited to be joining Infinity Theater Company for the summer and to be performing in the BROADWAY CABARET! Originally from Los Angeles, California, he is currently a rising junior pursuing a BFA in Musical Theatre at Rider University. Recent credits include: HEATHERS (Preppy Stud) at Rider University, THEORY OF RELATIVITY (Anthony) at /Rider University, GODSPELL (Ensemble) in Italy with Music Academy International, PAUX DE DEUX WOP (Bill) at Rider University, and CHILDREN OF EDEN (chorus ensemble) with Cabrillo Music Theatre. Other personal favorite credits include: ADDAMS FAMILY (Gomez Addams) and BEAUTY AND THE BEAST (Beast). Alejandro would like to thank his parents, sister, friends, and dogs for all their undying love and support, as well as Alan and Anna for this incredible opportunity!
CREATIVES AND CREW
Alan Ostroff
ALAN OSTROFF (Director) Click here.
Kimberly Schafer
KIMBERLY SCHAFER (Choreographer) is an award-winning NY Director and Choreographer. She received her Bachelor of Performing Arts in Dance Performance from Oklahoma City University. She was the Dance assistant to Tommy Tune and Randy Skinner on the production of LADY, BE GOOD at City Center.  She continues to assist Tommy Tune on all of his solo shows such as Ford's Theatre, a performance for President Obama. She is the creative director for MASQ, a show at the Off-Broadway theatre, the Diamond Horseshoe. She was an Associate Choreographer for BROADWAY BARES 24-26 and DANCING ON A DREAM at The Duke Theatre in New York. Some of her regional choreography credits include ALL SHOOK UP, THE DROWSY CHAPERONE, SISTERS OF SWING, ON THE TOWN, SINGIN' IN THE RAIN, GODSPELL, and many more.
Trenae Waller

TRENAE WALLER (Scenic Consultant) is excited to be working with Infinity Theatre for the first time, as the Scenic Consultant for MURDER FOR TWO. She recently graduated with her B.A. in Theatre Technology and Design from Seton Hill University (Greensburg, PA), where she was the Set Designer for LETTERS TO SALA, Assistant Set Designer for THE DROWSY CHAPERONE, and Scenic Charge Artist for MEDEA, along with other painting and carpentry positions. She was also a Painter and Carpenter for the past two years with the Howard County Summer Theatre's productions of MARY POPPINS and ANNIE.
Nathan Hawkins

NATHAN HAWKINS (Lighting Designer/Technical Director) is excited to be back at Infinity again this year. He has been the Master Electrician for the past several years, as well as the Lighting Designer for ELEPHANT AND PIGGIE'S WE ARE IN A PLAY, JACK VS. RAPUNZEL: THE MUSICAL, and GODSPELL. Awards: VIV: BLOOD AT THE ROOT (nominated). Nathan is a second-year MFA candidate at The California State University Long Beach. BFA The Pennsylvania State University. Online at hawkinslighting.net.
Molly Walz
MOLLY WALZ (Costume Designer/Production Wardrobe Supervisor) is a NYC-based costume/wig designer born in Dayton, OH. Her work has been seen throughout the country as a designer, technician, and costume shop manager. Favorite wig designs include THE LIFE AND ADVENTURES OF NICHOLAS NICKELBY and LES MISERABLES (Orlando Shakespeare Theatre), as well as MILLION DOLLAR QUARTET for Infinity last year. A few favorite costume designs include MILLION DOLLAR QUARTET (Ogunquit Playhouse/Papermill Playhouse) and THE WIZ (Barrington Stage). In addition to being a designer, Molly is a proud ATSE wardrobe technician, having just finished a year supervising RENT: 20TH ANNIVERSARY TOUR. MollyWalz.com
Wes Shippee
WES SHIPPEE (Sound Designer) is an NYU graduate and Drama Desk award-nominated sound designer, audio engineer, songwriter, and musician. Notable projects include the Radio City Christmas Spectacular, twelve years with RadioTheatre NYC (garnering multiple New York Innovative Theatre awards), and of course nine years in Annapolis with Infinity Theatre Company. Wes regularly designs on the high seas around the world for Norwegian Cruise Line and is the house sound engineer at the New School for Drama in NYC. He's also toured nationally as the keyboard player for Grammy-winning artist Moneybrother, and is lucky enough to work in some of the most prestigious and historic venues in NYC, mixing corporate events throughout the year. Wes is a proud graduate of the Ram's Head World Beer Club. For more information, visit www.wes.sh.
Kate Kilbane
KATE KILBANE* (Production Stage Manager) is excited to be at Infinity Theatre this summer. Based in Washington, DC, her previous credits include THE LAST NIGHT OF BALLYHOO, SOTTO VOCE, BROKEN GLASS, THE HOW AND THE WHY, FALLING OUT OF TIME, STARS OF DAVID: STORY TO SONG, THE TALE OF THE ALLERGIST'S WIFE, along with 7 other productions at Theater J. Other DC area credits include UNEXPLORED INTERIOR, the inaugural production at Mosaic Theater; AMERICAN UTOPIAS, THE AGONY AND THE ECSTASY OF STEVE JOBS and ARIAS WITH A TWIST at Woolly Mammoth Theatre Company; and THE SCREWTAPE LETTERS with Fellowship for the Performing Arts at STC's Lansburgh Theatre. As Assistant Stage Manager, she has worked on TRANSLATIONS at Studio Theatre, THE TEMPEST Free for All at the Shakespeare Theatre Company; 13 productions at Ford's Theatre, including VIOLET, FLY, PARADE and 4 productions at The Kennedy Center including FOLLIES and RAGTIME.
Meagan Spry
MEAGAN SPRY (Associate Technical Director/Associate Stage Manager) is excited to be back with Infinity this summer. She recently graduated from the University of the Arts in Philadelphia for Stage Management. University credits include PARADE, THE HUNCHBACK OF NOTRE DAME, FOLK WANDERING, and ANNIE SALEM: AN AMERICAN TALE. Other Credits include A CLOSER WALK WITH PATSY CLINE and GODSPELL at Infinity Theatre Company, and PETER AND THE STARCATCHER and YOUNG FRANKENSTEIN at Villager's Theatre.
Andrew Bristow
ANDREW BRISTOW (Producing Apprentice/Box Office Associate) is looking forward to this year's show MURDER FOR TWO, Andrew has been with Infinity for three years working as a general high school level Intern for MILLION DOLLAR QUARTET, ALMOST HEAVEN: SONGS OF JOHN DENVER, and ELEPHANT AND PIGGIE'S: WE ARE IN A PLAY, as well as a Box Office Intern for A CLOSER WALK WITH PATSY CLINE, GODSPELL, and KNUFFLEBUNNY. Andrew is pursuing a Bachelor of Science for Business at Clemson University and hopes to continue to work in the business side of theatre.
Madison Doney
MADISON DONEY (Wardrobe Associate) is going to be a second-year student at The American Academy of Dramatic Arts in Los Angeles, California studying Acting for Stage and Screen. Performing has always been a strong passion of Madison's, and the amount of happiness the theatre provides her is indescribable. While at the Academy, she has taken on numerous roles such as Nurse Kelly in HARVEY, Louella Parsons in SHAKESPEARE IN HOLLYWOOD, and Cherie in BUS STOP. Madison can't thank Infinity Theatre Company enough for helping expand her knowledge in the theatre arts, and hopes you laugh hard and enjoy MURDER FOR TWO!
Daniel Perkins
DANIEL PERKINS (Stage Management Intern) was born in Needham, Massachusetts in 1996. Having lived there through middle school, he attended private education for high school and is currently enrolled studying technical theatre at Eastern Florida State College in Melbourne, Florida. Daniel enjoys telling of the time he realized he was destined to be in theatre. "I recall the exact moment that I fell in love with theatre, my Aunt and Uncle had taken me to see the Lion King. I remember the main going out, the Circle of Life beginning, and falling hopelessly in love with what I am certain will be a career for me." Since that defining moment, he has gone on to participate in multiple productions at The Titusville Playhouse, The Flat Rock Playhouse, Eastern Florida State College, the Surfside Players, and more. Some of his favorite productions that Dan participated in are JOSEPH AND THE AMAZING TECHNICOLOR DREAMCOAT, THE ADDAMS FAMILY, JEKYLL & HYDE, as well as JEST DESSERTS. Daniel likes to be exposed to as much theatre as possible, seeing local theatre, attending a variety of shows on Broadway and the West End, and has had the pleasure of attending the 2015 Tony Awards. Someday, look for Dan to be an integral part of productions on the Broadway stage!
Kelsie Hicks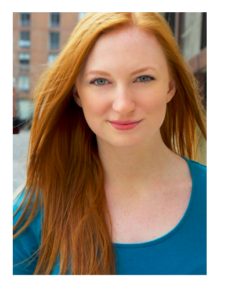 KELSIE HICKS (Acting Intern) is a junior in NYU Steinhardt's Vocal Performance Program. She is studying Music Theatre in the studio of Ryan Driscoll and will be studying abroad next semester in Prague, Czech Republic. This past year she was the co-captain of the NYU Dance Team and led her team to place second nationally at NDA Finals. Favorite past productions include BRIGADOON at NYU Steinhardt (Maggie), CHARLIE BROWN'S JUNGLE JOURNEY at Kings Dominion (Charlie Brown), and THE NUTCRACKER with Ballet West at the Kennedy Center (Page). She is a graduate of Severna Park High School and is so happy to be back in the area, and working with Infinity Theatre Company
Julia Salatti
JULIA SALATTI (Acting Intern) is absolutely ecstatic to be spending her summer with Infinity Theatre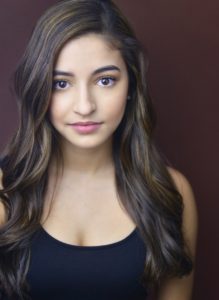 Company and to be performing in their BROADWAY CABARET! She is an Annapolis area native who is currently a rising junior at Rider University earning a BFA inMusical Theatre. Recent credits include: IN THE HEIGHTS (Nina Rosario) with Annapolis Summer Garden Theatre, THE TEMPEST (Miranda) at Rider University and FOOTLOOSE (Rusty) with Imagination Stage. Other favorite productions include: TITANIC (Kate Murphey), SWEET CHARITY (Nickie), BRING IT ON: THE MUSICAL (Skylar), FIDDLER ON THE ROOF (Hodel), GODSPELL (Joanne/Socrates) and LES MISERABLES (Eponine). You can see her next as Ado Annie in Rider University's fall production of OKLAHOMA! Julia would like to give a huge thank you to her parents for their constant support, as well as Alan and Anna for giving her this wonderful opportunity!
*Member, Actor's Equity